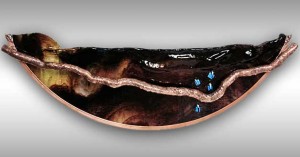 Let's learn something different! Combine non-traditional glass objects to fabricate ultra contemporary panels. Learn to work with Kokomo rondels, found items or head glass. Simple tips on fabrication platforms allow you to combine items of irregular thickness into panels of unlimited size. Use luxurious add-ons to create "upholstered glass". Use common materials to produce "bronze" reinforcement that allows open-ended design and dramatic dimension. After this class you may never make a flat glass panel again! This is not your mother's idea of stained glass!
ALL SKILL LEVELS. See other examples on website. www.cathyclaycombart.com
Supplied:
Kokomo Opalescent glass (flat sheets)
Canfield solder samples
Venture Tape sheet copper foil and tape
Classic 100 Gel Flux
Additional decorative items
Hakko FX-601 soldering iron for classroom use
Student must bring; Glass cutting tools (I have several sets to borrow), Black or Silver Sharpee marker, a handful of pennies, 50/50 solder
vinyl glove, T-shirt rag
Because a variety of project variations will be presented, a selection of items will be offered for sale during class from which to choose to create a work involving upholstered glass items, hand selected headglass, or custom-made rondels. That selection ranges from $$1.50 to $50 per item.