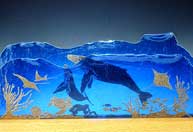 HIDDEN IMAGES 3-D -COPPER FOIL OVERLAY
From Cathy's, "Let's learn something different!" class series.
You asked for it! Due to Cathy's recent work featured in several national magazines students have requested new patterns that interact on 2 pieces of glass. Students will develop amazing detail not possible with traditionally cut stained glass. Once thought of as incidental decoration, learn how to make copper foil overlay the main focus of your work. Everything in "Hidden Images-copper foil overlay as you have never seen it" and Hidden Images- Masterlevel classes, taken to yet another level! Execute 2 matching panels of glass placed front to back, with very fine detail and add solder "sculpture" to create unparalleled depth. Signature works are executed on "head glass" and are displayed in fine art galleries and private collections across the globe. This class will dispel every rule about working directly on the glass, heat fracture, design mass, adhesion and more! Work a stained glass masterpiece without cutting glass!
INTERMEDIATE SKILL LEVEL. See other examples on website. www.cathyclaycombart.com
Supplied:
Kokomo Opalescent glass (flat sheets) – Canfield solder samples
Venture Tape sheet copper foil – Classic 100 Gel Flux
Haako FX 601 Soldering Iron for classroom use
Student must bring; 50/50 solder — ball point pen other than black – T-shirt rags – Exacto knife with extra #11 blades
Although supplied Kokomo Opalescent glass is all that is needed to produce project, students may opt to work on "headglass" as illustrated on website. That optional selection ranges from $35 to $45.